RN Careers in Montana
Montana's healthcare is largely in the hands of its registered nurses. Most work in hospitals where their relatively high levels of education and training prepare them to assist with various acute and critical situations. RNs, though, are employed in a range of settings. Early 2018 finds diverse organizations posting for RNs: long-term care, hospice, even doctor's office.
The vast majority of RNs describe their role as staff nurse. Significant numbers also identify their role as case manager or nurse manager.
A person becomes eligible for an RN license after completing a professional nursing program (RN programs in Montana) and passing the NCLEX at the RN level. The vast majority of young RNs have bachelor's degrees. This provides a solid foundation; real world experience builds expertise in specialized areas.
<!- mfunc feat_school ->
Featured Programs:
Sponsored School(s)
<!- /mfunc feat_school ->
Meeting Workforce Needs
Currently needs are high. According to a workforce summary published by the Montana Department of Labor & Industry in November 2016, only about 1.3% of the state's RNs are unemployed and seeking employment. This makes it more of a nurses' market than an employer's market. One way that facilities might handle it is to hire a nurse who doesn't have exactly the experience or skill set they were hoping to find and do some training. Training is indeed something that employers are touting.
A greater percentage of RNs in Montana are employed less than full-time than in the nation as a whole; the Department of Labor & Industry notes that Montana has more part-time workers in general.
Montana Healthcare Facilities
Montana's hospitals and medical centers are a varied set. There are some large facilities. There are also some very small rural and critical access hospitals. Both groups include facilities that enjoy recognition at the national level.
Filling positions in rural areas can prove a challenge, in Montana and elsewhere. An assessment of Montana rural nursing workforce status published in 2017 included input from 25 CAHs. The average number of vacancies was four. 15 of 25 CAHs foresaw an increased need for nurses over the coming decade.
Critical access hospitals have no more than 25 acute care beds, though there may also be accommodations for individuals who need long-term care. The state is well represented on the 2017 list of top CAHs: 11 out of 100 of the highest performing facilities.
<!- mfunc search_btn -> <!- /mfunc search_btn ->
A Look at a Critical Access Hospital
Frances Deaconess is among the state's highly rated CAHs. The facility's 2016 report provides a window into the organization. It lists 25 staffed beds and an average of not quite five inpatients per day. Still many people go in and out the door over the course of the year, whether for hospitalization or same-day services.
The report noted 3,193 emergency procedures, 1,073 surgeries, and 142 deliveries. The hospital reported 38,415 total served. The organization provided a list of 11 registered nurses who held a third party specialty certification (or in some cases, two third party credentials). Specialties represented more than once include medical surgical, inpatient obstetrics, emergency room, and operating room. There were several others; the facility had a certified flight RN and a certified critical care nurse on board.
Tuition reimbursement is listed among the benefits — one doesn't necessarily have to work at a big hospital to receive assistance in attaining higher degrees.
Frances Deaconess is a member of the Northeast Montana STAT Air Ambulance that transports patients with critical needs to facilities better able to meet them; the usual destination is Billings. Critical care RNs and paramedics are among the health professionals involved with transit.
A Look at a Large Facility
The Billings Gazette has provided a summary of the state's largest hospitals (http://billingsgazette.com/news/state-and-regional/montana/montana-s-largest-hospitals-at-a-glance/article_3de07318-7121-5509-ae40-c297191194fc.html).
Among them is the nationally acclaimed Billings Clinic. The Billings Clinic serves some populations from well outside the immediate area. The hospital is, for example, the State of Montana Cystic Fibrosis Affiliate. The Billings 2016 annual report describes new units, including a pediatric unit that includes little things that make hospital stays less of an ordeal for children and families: sleeper couches for overnight visitors, a lighting system that allows children to select a favorite color to be displayed in their head wall area. The nurse leadership team was in place the better part of a year before the unit actually opened; one member has the role of Nurse Clinical/ Educator.
Organizations attract and retain nurses in part by empowering them. Billings Clinic is one of two Montana magnet hospitals; the other is Providence St. Patrick Hospital (St. Pat's). Both boast shared governance with a number of nurse councils. Both note that there is a culture of inquiry as nurses seek to better implement evidenced based practice. Providence St. Patrick Hospital notes that direct care nurses are encouraged to ask clinical questions and are given tools to help them investigate.
The Missoulian has profiled some nursing specialties in its column Nurse's Notes. The cath lab is a place where specialized heart tests are performed and where some procedures (balloon angioplasty, placement of pacemakers) take place (http://missoulian.com/lifestyles/health-med-fit/nurse-s-notes-nurses-help-through-cath-lab-procedures/article_00abcf6c-571f-11e1-afb7-0019bb2963f4.html). RN duties could include attaching heart monitors, starting IVs, applying EKG patches, and administering medication. Nurses also make sure that patients are comfortable and provide them with discharge instructions.
Average Salary
The Bureau of Labor Statistics reported $30.91 an hour (or $64,300 for 52 40-hour weeks) as the average salary for a Montana registered nurse in 2016.
2015 survey data reviewed by the Montana Bureau of Labor & Industry suggests that actual salaries may be lower: $51,000 for an associate's level nurse, $53,000 for a bachelor's level nurse. Bachelor's level nurse managers, though, reported an average $66,700.
While earnings were overall similar for associate's and bachelor's degree nurses, they were much higher for those with master's degrees. In part, this reflects the inclusion of advanced practice which the data summary; the Bureau of Labor Statistics treats this level of practice as a separate category income-wise. However, even those master's level RNs who reported their role as staff nurse made more than their counterparts; the average was $62,000.
Related Articles:
Medical Assistant Certification Requirements in Montana
<!- mfunc search_btn -> <!- /mfunc search_btn ->
Find Nursing Licensure Requirements in Your State: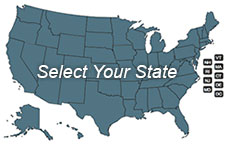 Learn about becoming a Registered Nurse, LPN or LVN in your state:
To View Full U.S. Map Click Here.