ADN Nursing Programs
ADN stands for Associate Degree in Nursing. It's one of two major pathways for earning a professional nursing license. A person can become an RN with an associate's degree and achieve the same license they would with a Bachelor of Science in Nursing.
The most fundamental content for entry level professional nursing is the same at both levels, though BSN programs include additional nursing courses. ADN nurses can expect to learn the same procedures. They will take the same licensing examination, the NCLEX. (The pass rate has been within about five percentage points.)
<!- mfunc feat_school ->
Featured Programs:
Sponsored School(s)
Sponsored School(s)
All school search, finder, or match results, as well as colleges and universities displayed as "Featured School(s)" or "Sponsored Content" are advertisers that compensate us for placement on this site. The resources, editorial content, and school evaluations published on this site are developed independent of the schools that advertise here.
<!- /mfunc feat_school ->
Selecting an ADN Program
RN programs must prepare students to meet requirements of their state licensing body. This is a requirement for taking the NCLEX. It is imperative that the program be state-authorized. Accreditation can be important for future opportunity. ADN programs are accredited by the Accreditation Commission for Education in Nursing (ACEN). One can find accredited programs at public and private colleges. Many are at community colleges.
People tend to attend associate's degree programs in their own locale. Community colleges may favor students in a particular service area.
A person may consider value, program outcomes, and the amount of time it will take to get in. Accredited programs collect data about program completion, NCLEX pass rates, and job placement. Sometimes schools make two placement rates available, using two different formulas: one that counts those who are furthering their education, another that doesn't.
RN students will have clinical experiences in diverse settings. However, students may want to consider the particulars. ADN clinical experiences can lead directly to post-degree jobs.
Nursing schools hold information sessions. These may be mandatory.
<!- mfunc search_btn -> <!- /mfunc search_btn ->
Preparing for Admission to an ADN Program
ADN programs include some prerequisite and general education courses. They are typically a little longer than the average associate's program (if one includes the pre-professional phase). A student will typically need to complete two semesters of anatomy and physiology, with labs included. Other common requirements are college math, microbiology, psychology, and composition. Schools vary with regard to what needs to be completed before admission. Community college nursing programs have selective admission. Completing co-requisites beforehand can boost one's chances of getting in.
The student will likely be required to pass an admission exam (for example, the TEAS).
The ADN Curriculum
The nursing coursework may be organized in different ways, and class titles may reflect population, health condition, or level of complexity of nursing skills. All programs will prepare students to pass the NCLEX.
The 2020 NCLEX covers the following categories:
• Basic care and comfort
• Pharmacological therapies
• Reduction of risk potential
• Physiological adaptation
• Coordinated care
• Safety and infection control
• Health promotion and maintenance
• Meeting patient's psychosocial integrity needs
The student can expect clinical opportunities with multiple populations. Often there is an extended practicum.
ADNs make work in a variety of health settings, including hospitals, home health, clinics, and long-term care. Some hospitals offer residencies, or transition to practice training programs for new graduates. A 2021 job search reveals that many will consider ADN graduates. (Many others do mandate the BSN or make it a strong preference.) There is a geographic element.
Nursing has a career ladder. A nurse who breaks into hospital nursing with an ADN may be expected to earn a BSN in a set period of time.
Employment at the ADN Level
The following are among the many positions recently posted for nurses with ADNs:
• Registered Nurse- Skilled Nursing/ Rehabilitation Hospital – Boise, Idaho
• Hospital Staff Nurse 'New Grad' Residency – Easton, Maryland
• Pediatric Home Health Care Company 'New Grad' – Seattle, Washington
• Vaccine Clinic RN I – Jackson, Mississippi
• Registered Nurse – Special Care Unit – Damariscotta, Maine
• School Health Room Assistant Nurse – Tacoma, Washington (LPN required, ADN/RN preferred)
• Family Health Center RN – Georgetown, South Carolina
ADN Programs as Part of a Career Ladder
Mobility programs can take nurses up from LPN to ADN or on from ADN to BSN. Some ADN programs are part of career ladder programs. Those who complete them can test for RN licensure while also continuing their education.
Individuals who have some healthcare experience may be at an advantage when it comes to breaking into the market with a degree at the associate's level. A recent ad for new RN residencies at the UW-Harborview (Seattle) stated that a BSN was required in most circumstances. However, individuals already employed in positions like nursing technician or hospital assistant could be considered for a limited number of available spots. Memorial Hermann Health System also stated in a posting for new grad residents that internal candidates with ADNs would be considered – there was a BSN preference for external.
Some employers with a bachelor's preference will consider a nurse with an associate's degree in nursing and a bachelor's in another field. (Professionals who already hold degrees outside nursing will want to consider whether it's better to opt for the associate's degree or an accelerated second bachelor's.)
<!- mfunc search_btn -> <!- /mfunc search_btn ->
Additional Reading
Find Nursing Licensure Requirements in Your State: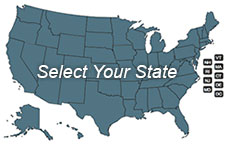 Learn about becoming a Registered Nurse, LPN or LVN in your state:
To View Full U.S. Map Click Here.