How to Become a Paramedic
Paramedic is an Emergency Medical Services (EMS) career. Paramedics occupy a high level on the EMS career ladder. They start out as Emergency Medical Technicians and generally need to spend quite a few months out in the field before they complete their training; requirements vary by state. Paramedics perform more procedures and administer far more medications than EMTs do. Paramedic careers are built on understanding and skill beyond the technician level.
Individual states set paramedic requirements. However, there are some commonalities. Prospective paramedics can expect to complete accredited programs and pass written and practical examinations. They must go through a state licensing process. Because they start as EMTs, they go through the process more than once.
There are opportunities for specialization beyond the general paramedic level.
The Paramedic Role
Paramedics are typically part of an ambulance crews. This is not the only career option, though, particularly when one has experience.
EMS professionals typically travel in twos. Paramedics often team with EMTs, each taking the role appropriate to their training. Sometimes two paramedics are teamed together on ambulance runs. Some paramedics become part of the life flight crew. On flight EMS missions, needs are often more critical, and paramedics travel with flight nurses, each contributing their skills. EMS flights are often inter-facility travel. EMS providers may, however, pick patients up directly from an accident scene or other emergency. Med Evac, a Colorado company, notes that, at their company, paramedics are the lead on 'scene calls' while nurses are the lead on inter-facility calls (https://www.medevacco.com/flight-team.html).
<!- mfunc search_btn -> <!- /mfunc search_btn ->
Becoming a Paramedic
Paramedics complete accredited programs which may or may not result in associate's degrees. The trend is toward associate's level education, though this has been codified in few states. There are 384 associate degree programs as of early 2021. There are still more non-degree programs: 540 certificate and 60 diploma. Many schools offer both degree and non-degree options. Bachelor's programs are a small minority: 14
Many, but not all, paramedic programs are offered by educational institutions. Programs may be offered by various entities, including EMS providers. Organizations that do not offer college credit directly have articulation agreements that allow individuals to enroll and receive academic credit for paramedic training.
Some individuals are sponsored by their employers to take training programs. Others enroll directly in the hopes of getting that ideal job. It pays to know the local organizations.
Program standards are set by the Committee on Accreditation of Educational Programs for the Emergency Medical Services Professions (CoAEMSP); CoAEMSP operates under the banner of CAAHEP. Students may search the CAAHEP directory (https://www.caahep.org/Students/Find-a-Program.aspx). They may also seek information from their state boards.
Paramedic students have both hospital and field experiences. This allows them to see a wide variety of patients with critical needs.
Training is generally about 1,200 to 1,800 hours. Some programs are longer. Seattle's Medic One – long renowned in the industry – delivers about 2,500 hours of training.
Paramedic examinations are, in most cases, administered by the National Registry for Emergency Medical Technicians (NREMT). The written examination is computer-adapted.
State Paramedic Classifications and Educational Standards
Although paramedic scope of practice and licensing standards are set at the state level, there are organizations that have come together to articulate common standards and a common vision. The National EMS Management Association (NAEMSE) and the National Association of EMS Educators (NAEMSE) support a move toward making paramedic a degreed profession.
Oregon mandates that paramedics hold degrees at the associate's level. Texas distinguishes two paramedic levels: EMT-Paramedic and Licensed Paramedic; the latter hold degrees.
Paramedics can take on specialized roles in any of multiple areas. Here national stakeholders have recommended an even higher level of education.
Specialty Paramedic Roles
The Board for Critical Care Transport Certification (BCCTPC), a third party organization, certifies paramedics in four specializations:
• Flight Paramedic Certification (FP-C®)
• Critical Care Certification (CCP-C®)
• Community Paramedic Certification (CP-C®)
• Tactical Paramedic Certification (TP-C®)
Tactical paramedics work with law enforcement.
In some cases, third party certification is necessary. Some states require medical transport systems to hold organizational accreditation through the Accreditation of Medical Transport Systems (CAMTS). Under CAMTS standards, individuals hired into applicable positions are required to hold Critical Care Paramedic (CCP-C) or Certified Flight Paramedic (FP-C) certification, not necessarily at the time of hire but within two years.
Some organizations reference other specializations. The Journal of Emergency Medical Services notes a number of potential areas of specialization, including wilderness paramedicine (https://www.jems.com/ems-insider/specialty-certifications-in-ems/). The Journal of Air Medical Transport calls paramedic specialization a strategy for getting better results (https://www.researchgate.net/publication/269183379_Paramedic_Specialization_A_Strategy_for_Better_Out-of-Hospital_Care).
Some stakeholders are recommending that specialty paramedic positions transition to the bachelor's level. Employers often state a degree preference for positions like flight paramedic. However, specialty certifications are available to paramedics who hold no academic degree.
Some states officially recognize advanced or specialty roles. Wisconsin, for example, has a Tactical Emergency Medical Service (TEMS) endorsement and a Critical Care endorsement.
Resources
EMT vs. Paramedic: What's the difference?
Find Nursing Licensure Requirements in Your State: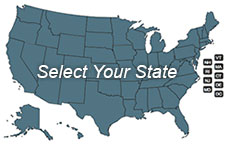 Learn about becoming a Registered Nurse, LPN or LVN in your state:
To View Full U.S. Map Click Here.