How to Become an EMT
Emergency Medical Technicians are Emergency Medical Service (EMS) professionals. Driving the ambulance is among their typical duties. However, they do a lot more.
EMTs are dispatched to provide pre-hospital care in ambulances and at emergency scenes. What they actually do on an ambulance run will vary a lot. Some calls are life-threatening emergencies; others are not emergencies at all. Typically, EMTs travel with paramedics, who are also EMS professionals but have a higher level of training. EMT services are characterized as Basic Life Support, or BLS. There are times where EMTs travel without paramedic support.
EMT: Getting Started
The national EMS Office lists four steps that must be taken before a person carries out EMT tasks on the job: education, certification, licensure, and credentialing.
The EMS Office has estimated that basic EMT training will take 150 – 190 hours. Afterward, prospective EMTs must verify their competence. The vast majority of states use the National Registry of Emergency Medical Technicians (NREMT) for examination. Licensing, though, is a separate step. The word credentialing, in the case of EMS, refers to receiving authorization from a medical director.
An EMT who is training at the basic level will learn about many different types of medical issues, though there will be less depth and breadth than at higher levels. The following are among the conditions that receive coverage: wounds and burns, foreign objects in the eye, facial fractures, temperature-related illness, shock, seizure, clotting disorders, and the birth process.
EMT Training and Education
EMT programs are state-authorized. They may be sponsored by educational institutions, public safety organizations, hospitals, clinics, or other state-approved organizations. The EMT program will have didactic learning, laboratory skills, hospital or clinic experience, and field experience. It is expected that the student will do some observation in the emergency room.
National stakeholders have set a model curriculum, though mandates are set at the state level. Some states have authorized duties beyond those that are included in the national EMT curriculum.
The following are among the tasks the individual will be expected to learn how to do:
• Administer glucose
• Assisted with a complicated delivery
• Perform splinting of the extremities
<!- mfunc search_btn -> <!- /mfunc search_btn ->
Achieving NREMT Certification
NREMT certification candidates must pass both a written examination and a psychomotor examination.
EMT-level psychomotor examinations are standardized. However, they are administered at the state level. The NREMT reports that some are administered by state EMS offices while others are administered by training programs operating under state oversight.
The NREMT has provided a number of checklists as a guide. The following are included in psychomotor assessment:The cognitive examination is computer adaptive. It covers the following:
• Airway, Respiration, and Ventilation
• Cardiology and Resuscitation
• Trauma
• Medical, Obstetrics and Gynecology
• EMS Operations
Cognitive examination content related to patient care is 15% pediatric, 85% adult.
A few states have a licensure process that does not involve NREMT certification. The NREMT has provided a map of certification requirements (https://www.nremt.org/Resources/State-EMS-offices). It is linked to state EMT offices.
States also set renewal requirements (e.g. continuing education). A minority require continued NREMT certification. NREMT certification is renewed every two years. 40 hours of continuing education is required.
Certification, Advancement and Specialization
EMTs frequently advance by becoming paramedics. After spending some time out in the field, they pursue additional education.
Some EMTs pursue an intermediate level of certification: Advanced Emergency Medical Technician, or AEMT. AEMT programs are considerably shorter than paramedic programs (about 150 – 250 hours). AEMT certification and licensing authorizes a limited number of advanced duties. AEMTs can administer quite a few additional medications. AEMT availability can be particularly important in rural areas.
Some states have their own qualifications for individual skills. Washington State, for example, allows EMTs some additional suctioning tasks if they have had the requisite training.EMTs may be involved in Community Health Emergency Medical Services (CHEMS), extending primary care and reducing the need for emergency services. Opportunities will vary by area. In some places, highly educated specialty paramedics are utilized as community paramedics. In others, EMS providers with lower credentialing may be utilized. Some states have a Community Emergency Medical Technician (CEMT) certification.
EMT certification is part of the foundation for other careers such as firefighter. Firefighters are typically required to hold either EMT or paramedic certification.
EMT Salary
The mean EMT/ paramedic wage was $38,830 in 2020. Most made between a 10th percentile of $23,490 and a 90th percentile of $59,860. While there are many factors that influence salary, including location and years on the job, an EMT will generally need to move further up the EMS career ladder to earn top wages. BLA – May, 2020
Resources
Individual state offices are a source of information about licensing and education (as well as particulars about the state's emergency systems). The National Association of State EMS Professionals has provided a list of EMS offices by state (https://nasemso.org/about/state-agencies/).
Related Content:
EMT vs Paramedic: What's the Difference?
Paramedic to RN Bridge Programs
Find Nursing Licensure Requirements in Your State: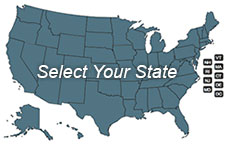 Learn about becoming a Registered Nurse, LPN or LVN in your state:
To View Full U.S. Map Click Here.