Paramedic to RN Bridge Programs
Paramedic experience is highly valued in the nursing world. Your paramedic license may mean that you have a shorter path to nursing — less time and less money! Knowing what to expect before you enter nursing school can put you in a better position to leverage your new career.
Many schools offer paramedic to RN bridge programs. Programs may be organized in different ways. In many cases, you will complete a bridge or transition course, then articulate into the regular nursing track. The school may place course completers into the 2nd semester or 2nd year of an RN program. It is important to keep in mind that the number of credit hours in the bridge course varies quite a bit. The course may be 10 credit hours; it may be significantly less.
Assessments are often used to validate experience. Some schools use the Elsevier HESI mobility exam designed for paramedics who are transitioning to nursing.
RN programs may be associate's (ADN) or bachelor's (BSN). Some programs are designed to take you from paramedic to ADN whole others take you straight to BSN. Some will allow you to achieve a nursing license at the ADN level but will also make it easy to articulate to a BSN program in the future. (See: ADN vs BSN)
Search Paramedic to RN Programs
Paramedics can earn an ADN or BSN degree online in up to 1/2 the time and cost of traditional programs. All applicants must be a Paramedic to apply.
<!- mfunc search_btn -> <!- /mfunc search_btn ->
Preparing for Nursing School Admission
Be aware that nursing programs typically have prerequisite courses that you must complete before you're formerly admitted. This is true for general nursing students as well as bridge students. Semester one is typically not really semester one. Typical prerequisites include anatomy and physiology, chemistry, psychology or human development, college composition, and college math. Microbiology may be a prerequisite or co-requisite. Individual schools have different mandates, though, so you'll want to do some early research. Schools also have different policies about grades and how they weigh into admission decisions. If prerequisite courses were completed too far in the past, you may need to take them over again or take additional academic tests to validate learning.
A paramedic to ADN program, including transition coursework but excluding other academic prerequisites, can often be completed in three terms. Counting the summer, you may be finished in less than a calendar year. There are programs, though, that stretch coursework out over a significantly longer period.
States approve nursing school operating within their borders. Some requirements are set down in state code. This means there will be a geographic element.
The Paramedic-Nurse Transition
As a nursing student, you will be exposed to many more facets of healthcare. The skills and procedures that keep patients healthy in long-term and sub-acute settings can be very different than those practiced on an ambulance run. The nursing curriculum may be organized in a way where the things you've never done before are front-ended.
There will be significant differences in role and decision making processes as you transition. As a nursing student, you will learn to write a care plan. You will be responsible for the first time for planning care for stable clients – or planning care for anyone for more than the very short-term. At the same time, there are decisions that you once made independently that will require an authorization when you act in a nursing role. How you interact with other healthcare professionals will be changed. In some settings, you may have a supervisory role over nursing assistants and/ or LPNs.
In short, there are some major shifts involved in preparing to be a nurse. You will find healthcare professionals discussing the student experience on forums. Among the things you may hear: that paramedics may be better prepared by virtue of their clinical experience than BSNs who go the traditional route and get an academic, theory-centered education (https://www.reddit.com/r/ems/comments/341n18/any_paramedics_here_make_the_transition_to_nursing). Paramedics are well-prepared for crises. There are a lot of people who train to become nurses who wouldn't want to take on the responsibility that an EMT/ paramedic does on the timeframe that he or she does. On the other hand, professionals report that some transitioning paramedics run into problems as nursing students because they're too sure of what they know. And some paramedic to RN students feel that their professors hold them to higher standards than they do students who are new to healthcare.
Career Options
Some nursing specialties demand a more similar skill set and make a more natural transition, for example, emergency department and ICU. If you're not in a hurry to leave the fast pace or the critical life-and-death situations behind, you could aspire to a role such as flight nurse.
You're by no means limited to emergency, ICU, or even acute care, though. You may opt for long-term care or health promotion or case management. As a nurse, you will have the opportunity to specialize in working with particular populations, like children, vulnerable newborns, or cancer patients. Nursing school rotations are an opportunity for exploration. Your initial RN education will prepare you as a generalist, but your clinical experiences may lead to a niche as well as a first job. After you've gained some experience as a nurse, you'll have the opportunity to take third party certifications and validate your competency in your specialty.
Related Content:
EMT vs Paramedic Deciphering the differences</p?
<!- mfunc search_btn -> <!- /mfunc search_btn ->
Find Nursing Licensure Requirements in Your State: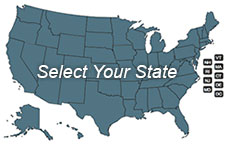 Learn about becoming a Registered Nurse, LPN or LVN in your state:
To View Full U.S. Map Click Here.